The Green City of Benguerir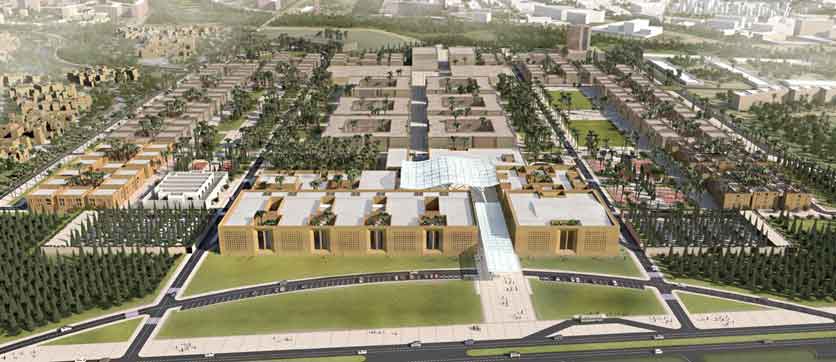 AN ECONOMIC , SOCIAL AND CULTURAL AMBITION ;
Launched in 2009 by His Majesty King Mohammed VI, as part of OCP Group's major development projects, the Mohammed VI Green City aims to become a world-class university hub. Its vocation is to offer an attractive and ecologically exemplary living environment around a knowledge ecosystem.
The Mohammed VI Green City is positioned as a new city, with dimensions both local and national.
At the local level, because of its size, its consistency, its investment volume, its attractiveness and its duration, the project has a remarkable urban, economic and social impact on the adjacent city of Benguerir.
Moreover, given the design and ambition attached to the Mohammed VI Polytechnic University, which is the heart of the new city, this project also carries a national dimension. Indeed, the university is expected to play a major role in the success of the strategy of the pact for the industrial emergence of the kingdom, through its contribution to training and research.
The Mohammed VI Green City is part of a LEED ND environmental certification process. The exemplary societal and environmental sustainability of the Green City is pursued at all stages of development:
URABINISM :
Adaptation of the urban fabric to the natural conditions of sunshine and circulation of prevailing winds, presence of thalwegs and wadis, specific landscape design and plant policy, polycentric Green Casting, density management optimizing displacements with respect to equipment locations, urban screening between pedestrian ways, soft modes of transport, bioclimatic architecture
INFRASTRUCTURE
Photovoltaic panels, high-efficiency HVAC equipment optimizing energy efficiency, sewage treatment plant, sewer system (drinking water, gray water), retention and treatment of rainwater, reuse of recycled wastewater for irrigation.
URBAN SERVICES :
Separate sorting, collection, reuse and recycling of waste, optimization of urban mobility, compact and equipped neighborhoods